Monday, June 9th, 2014
Brahma fue el primero de los Devas, el hacedor del Universo, el preservador del mundo. El reveló el Conocimiento de Brahma, la fundación de todo conocimiento, a su hijo mayor Atharva.
I stumbled on an old blog post this past weekend which prompted me to take a look at the Mundaka Upanishad. Something about the reverent tone of the prophet who wrote the upanishad seemed very familiar -- it sucked me right in in the way some of my Bible readings have.

In keeping with the Bible readings, I'm going to follow the Upanishads in Spanish, prophetic tone seems to come through a little better. But I think I'll try keeping a journal of it in English.
From him comes Agni (fire), the sun being the fuel; from the moon (Soma) comes rain (Parganya); from the earth herbs; and man gives seed unto the woman. Thus many beings are begotten from the Person (purusha).
Last night I read most of the Mundaka Upanishad a bit haltingly in English, focusing mainly on the part about two birds, inseparable friends which is what had brought me to the text -- quickly realized I would like this better in Spanish! Reread in Spanish and going back to the beginning of the upanishad and found a very familiar voice. This is like reading prophets in the Bible, a bit. Plus it has the ring structurally of a couple of my poems in Intenciones extendidas. Is that a tone in common with Old Testament? Not sure -- I tried to model those poems on an OT voice but did not feel like I succeeded, quite.

This testament ("upanishad" is, if I understand correctly, a Sanskrit term with the meaning of looking up to, as to a teacher -- and just now "testament" seems like a good term for Upanishads though I think it is a bit shorter than NT) also seems to bear quite directly on recent musings on self and reality.
"Toma este Upanishad como el arco y coloca en él la flecha afilada de la devoción. Si así lo haces, tu mente permanecerá sujeta y darás en el blanco, que es el Indestructible."
Saturday, May third, 2014
Génesis
por J Osner

Antes
de mandarle al Agua
que sea agua
ni a la Tierra que sea tierra
ni tampoco a la luz
y la oscuridad que se separen
debe hacer creador el Fuego
y lo dejar
Arder.
I presented my chapbook of biblical verse, and got good notes. Primarily -- I should keep my poems short and intense, and resonant; anchor the ideas in imagery; and surprise the reader. The favorite was "Esquéleto":
Esquéleto

Esto son mis huesos
desnudos; vestilos
en carne, inspirámelo
el Espíritu a mí.
Planteá Vos la sembra espiritual
que crezca y florezca profecía
derramámelo
fornicámelo
que sueñe yo los sueños
de iluminación
Readings for next week are Latin American vanguard poems, a beautiful selection (which somehow manages to omit Pasos and Cuadras).
Saturday, April 19th, 2014
I've started putting together a chapbook of poems based on Biblical verses -- using as a core the poems I've been posting lately under the tag book:bible. It's looking interesting! I'll present the chapbook at the taller de poesía en la Universidad Desconocida. The contents (currently -- I am hoping to write at least one more poem this weekend):
"Profetizarse" -- quotes from Genesis, John. Invocation of God asking for His Word.
"Caminos de la carne y del Espíritu" -- quotes from Romans, Psalms. Dialog between flesh and Spirit.
"Vete y haz lo mismo" -- quotes from Luke. Meditation on the parable of the good Samaritan.
"Tíramela" -- quotes from Leviticus, John. Meditation on casting the first stone.
(untitled) -- quote from Ecclesiastes.
"insensible" -- quote from Matthew.
(untitled) -- Meditation on prophesy with reference to Joel.
"Esqueleto" -- Meditation on prophesy.
"Lo que diría la esposa de Lot" by Karen Finneyfrock.
Thursday, April 10th, 2014
Reading "Canto de guerra de las cosas" last week I was struck again by the epigraph and decided to read the 8th chapter of Romans. Here are two poems (one I started writing in Spanish and finished in English, and one I started writing in English and finished in Spanish) based on a few verses from that.


The Ways of Flesh and Spirit
by J Osner



2 For the law of the Spirit of life in Christ Jesus hath made me free from the law of sin and death.

3 For what the law could not do, in that it was weak through the flesh, God sending his own Son in the likeness of sinful flesh, and for sin, condemned sin in the flesh:

4 That the righteousness of the law might be fulfilled in us, who walk not after the flesh, but after the Spirit.

Romans 8

4 Yea, though I walk through the valley of the shadow of death, I will fear no evil: for thou art with me; thy rod and thy staff they comfort me.

Psalm 23


I will not walk forth
in the ways of the flesh
but in the ways of the Spirit. I will not
subject myself to the law of sin
and of death. For both
are of the flesh, which is not I --
though I'm living now, this moment,
in a lump of flesh. I'll walk
my pathway of the Spirit
of life in Christ Jesus, this lump
will come along for the ride.

I'm flesh which must follow
the law of sin and death --
would be no question
of walking
in any other ways
but the ways of the flesh,
for I am flesh. Will fear
no evil, for you will be with me.

And so we'll walk forth together
flesh and Spirit,
side by side
--indeed inside!--
along our separate paths
of Self and Other.
Romanos 8
por J Osner

Carne, te estoy adentro de vos
Tus sensaciones y reacciones
Son las mías. Cuando eructás
Soy yo el que me debo excusar.
Distraeme por tu hambre
Y por tu satisfacción.
Intimidame por tus anhelos;
No los voy a reconocer. Voy
A andarme conforme al Espíritu
De vida en Cristo Jesús y me retraeré
De vos y tu concepción asquerosa
Del mundo, tu valle
De la sombra del Mal
y del Muerto.
Sunday, March 23rd, 2014
Vete y haz lo mimo
por J Osner

26 Él le dijo: ¿Qué está escrito en la ley? ¿Cómo lees?

27 Aquél, respondiendo, dijo: Amarás al Señor tu Dios con todo tu corazón, y con toda tu alma, y con todas tus fuerzas, y con toda tu mente y a tu prójimo como a ti mismo.

28 Y le dijo: Bien has respondido; haz esto, y vivirás.
San Lucas 10

véndale las heridas al prójimo. Oye
sus gritos, y responde. Haz
lo que puedes. Lo reconoce
como compañero, como
parecido ser humano
ten en común

siente la affinidad con el otro
esta chispa de conexión
se eleva
se genera
funciona para todo
cada prójimo considerando al prójimo
como amigo
Saturday, March 22nd, 2014
Tíramela
por J Osner


13 Si alguno se acuesta con varón como los que se acuestan con mujer, los dos han cometido abominación; ciertamente han de morir.
Levítico 20

7 Y como insistieran en preguntarle, se enderezó y les dijo: El que de vosotros esté sin pecado sea el primero en arrojar la piedra contra ella.
San Juan 8

La piedra ya arrojada
contra ella
y ¿quién sabe,
si estaría sin pecado
el tirador; si se acostaba
con varón como los que
con mujer? En todo caso
comete abominación. El templo
hecho de cristal
ya se rompe en pedazos.
Monday, March 17th, 2014
2 poemas con referencias biblicas --

No me parece tan necesario
Estar siempre listo
Para lo que venga;
Mejor, pienso, que se deje
Sorprender
Y hasta confundir
Por lo nuevo.
Mejor, pienso, volver,
Y otra vez volver,
En este momento señalado
Para toda cosa
Debajo del sol.


insensible
por The Modesto Kid

insensible
como las cenizas
a la llama

arde

y miro la paja en el ojo ajeno
y no atiendo la viga en el mío propio

ayúdame a mí, por favor --
me desespero
tengo viga en el ojo
lo reconozco
¿es ceniza? ¿es llama? arde.
ilumina

espérame a mí momento, por favor --
espera
a confesarme

inmediato,
instantáneo

arde.


...y uno sino:

Vuelve ahora atrás,
quien me una vez
ávidamente buscó:
me persigue,
quien iba corriendo.
Sunday, March 9th, 2014
3 Y, ¿por qué miras la paja que está en el ojo de tu hermano,
y no echas de ver la viga que está en tu propio ojo?

4 O, ¿cómo dirás a tu hermano: Déjame sacar la paja de tu ojo,
y he aquí la viga en tu propio ojo?

5 ¡Hipócrita! Saca primero la viga de tu propio ojo,
y entonces verás bien para sacar la paja del ojo de tu hermano.

3 And why beholdest thou the mote that is in thy brother's eye,
but considerest not the beam that is in thine own eye?

4 Or how wilt thou say to thy brother, Let me pull out the mote out of thine eye;
and, behold, a beam is in thine own eye?

5 Thou hypocrite, first cast out the beam out of thine own eye;
and then shalt thou see clearly to cast out the mote out of thy brother's eye.
Saturday, February 15th, 2014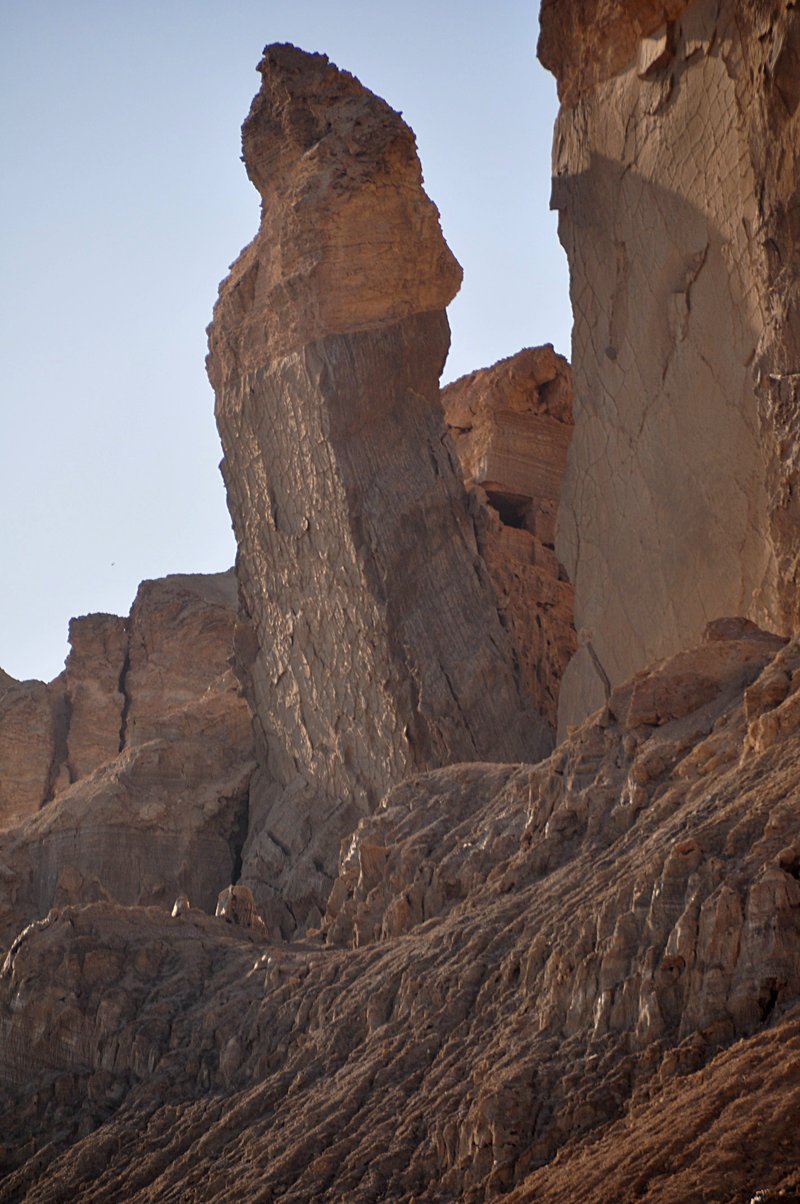 por

Karen Finneyfrock

traducido por Jeremy Osner

con consulta a

Ludvila Calvo-Leyva


¿Recuerdas bien cuando nos encontramos
en Gomorra? Cuando aún no tenías barba --
y yo engrasaba el pelo, iluminada por el farol antes de
verte; éramos jóvenes y con esa juventud nos sonrojábamos
como frutas magulladas. ¿Nos interesó entonces
lo que pasara entre los vecinos
en la oscuridad?

Mientras nos nacía la primera hija
al lado del río Jordán, mientras
la rosada cabeza de la segunda
se esforzaba, saliendo de mi cuerpo
como promesa ¿nos preocupó
cómo usaran la lengua
los amigos?

O ¿cuáles grietas nuevas encontraran
para lamer el amor? o ¿cuál carne extraña
encontraran para empujar el placer? En llamarlo
entonces a uno sodomita,
sólo quisimos decir
vecino.

Cuando nos mandaron los ángeles correr
de la ciudad, te acompañé;
pero eses ángeles sabían también
que mira la mujer siempre atrás.
Déjame así decirte, Lot,
cómo lucía tu ciudad en llamas
puesto que tú nunca te volviste para mirarla.

Los dedos pegajosos del azufre se arrastraban sobre la piel
de nuestros compatriotas. A pelo quemado apestaba
y a huevos rancios. Observé a los amigos sacando trozos
ardiendo de sus rostros. ¿Hay una forma
tan obscena de amar?

Cúbrete los ojos con fuerza,
hombre, hasta que veas las estrellas. Convéncete
de que miras el cielo.

Pues el hombre que es bastante débil para cerrar los ojos mientras se castiga a los vecinos por la forma en que se aman merece a un dios
malévolo.

Todo esto te lo diría, Lot,
si no se me hubiera secado océano en la lengua.
En lugar de eso me quedaré aquí; mi cuerpo soplará
grano a grano de regreso a la tierra de Canaán
Voy a quedarme aquí
y te veré
correr.

Previous posts about The Bible
Archives
Drop me a line! or, sign my Guestbook.
•
Check out Ellen's writing at Patch.com.