Monday, February 4th, 2013
I picked up Fantagraphics' Krazy and Ignatz (b/w Sunday pages, 1933-34) yesterday evening -- reading along on my commute and I am amazed to see this strip, which I feel just sure is a direct inspiration for Dr. Seuss' Good King Looie story. (Or I will think that absent any evidence to the contrary anyway.)
Wednesday, August first, 2012
At Patrick Farley's sketch blog, an idea of what they look like: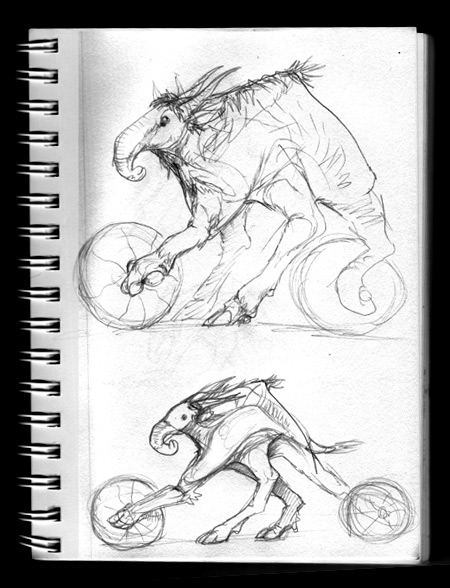 Saturday, March 24th, 2012
Jan Magne Gjerde of the Tromsø University Museum has discovered some fascinating Stone Age art, at Lake Kanozero in northern Russia. Read about his findings at Science Nordic, with pictures of the etchings and of Gjerde's tracings.
via Orbis Quintus, where badger has been linking some great stories lately.
Wednesday, March 14th, 2012
A mix tape from Jaime Hernandez!
via The Hooded Utilitarian -- also, some great writing from Manga artist Deb Aoki on how the Bros. Hernandez influenced her work and her worldview: From Hoppers to Honolulu.
Monday, February 13th, 2012
(via Book Riot)
Sunday, February 12th, 2012
Tuesday, January 24th, 2012
A fine commentary on this year's presidential contest, from 30 years ago:
Thursday, January 12th, 2012
Scio cur summæ inter se dissentiant!
Numeris Romanis utor!

(by Jason Hernandez)
Sunday, January 8th, 2012
At the Wooster Collective, a marvelous street painting:
Friday, January 6th, 2012
Ladies and gentlemen, your Republican party:
From a collection of Rick Santorum quotes cast as captions to New Yorker cartoons, at Buzzfeed. (Thanks for the link, Lindsay!)
Previous posts about Comix
Archives
Drop me a line! or, sign my Guestbook.
•
Check out Ellen's writing at Patch.com.